Pakistani women have proven many times to the world that they are no less than anyone in any field and have entitled their names on the walls of the hall of fame. We have seen such examples in the shape of Sword of Honor winner "Saira Amin", Oscar Award Winner "Sharmeen Obaid-Chinoy", gold medal winner of South Asian Games "Naseem Hameed." and the list goes on. And now meet Rubab Jubani! Pakistan's first female Foodpanda rider.
It is said that nearly half of the country's population is female, but their contribution to the country's development is restricted to 15 to 20 percent. Though in such difficult situations, Pakistani women are rising above all and breaking all the stereotype concepts.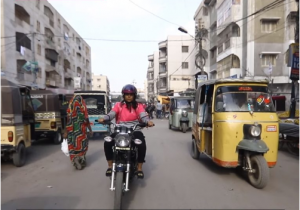 Meet Rubab Jubani
Rubab Jubani is a photography enthusiast and a part-time food delivery rider. She registered herself as a Foodpanda delivery rider to earn for herself and family but it was not easy for her. She had to face many comments and staring from the people when they saw her rushing bike on the roads as it is unusual in the country for a girl to ride a bike.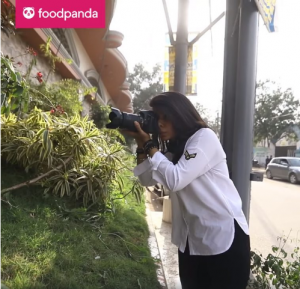 Talking about the comments and critics she faces, she said that it should be a normal thing for a girl to ride a bike and it should not be considered inappropriate. As an independent woman, all she wanted is to earn for herself and family by doing this part-time job in flexible hours.
Asked if she likes her job?
Rubab was asked if she likes her job and she said that she loves it. This job has given her motivation and confidence and her favorite side of this job is seeing the smiling faces of customers when she delivers food. She advised the girls to work hard and do whatever they want and play a role in the progress of the country. In the end, she delivered a very important message:
"If you believe yourself, nothing can stand between you and your dreams."
On seeing Rubab's enthusiasm for her job, one of her peers, says, "I wasn't expecting a woman to opt for a rider's job role and will not feel shy to say I was a little astonished. I inquired what made her aspire to work as a delivery rider and she said she wanted to do it to earn by herself and have a decent living for herself and her family so I admired her passion and enthusiasm."
Role models like Rubab teach us how essential it is to take a leap of faith and ignore all obstacles to personal growth. Women like Rubab keep reminding us that nothing is impossible if you are true to your dreams and have a firm belief. Whenever you feel low, you can take a look at the enthusiasm of such persons to get motivated.
So, what did you think of her story? Did it motivate you to set your best foot forward? If so, let us know in the comments section below.