Kenneth Leverich also is known as "Kenny" is a former Junior Olympic Weightlifter and SoCal Crossfit contestant. He decided to prank weightlifters and bodybuilders at the famous gym on the beach in Venice, California. An old man trolled weightlifters at muscle beach.
An Old Man Trolled Weightlifters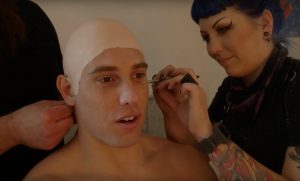 Leverich planned to get prosthetics and makeup to seem much older and inadequate of lifting the weight as compared to younger guys. See for yourself how these bodybuilders and the crowd witnessed the biggest surprise of their lives.
More often perceptions are meant to be broken. For example, big husky lads who love to spend time in the gym lifting weights to gain the perfect body. We may consider these muscular guys don't let anyone in their private circle who does not resemble them.