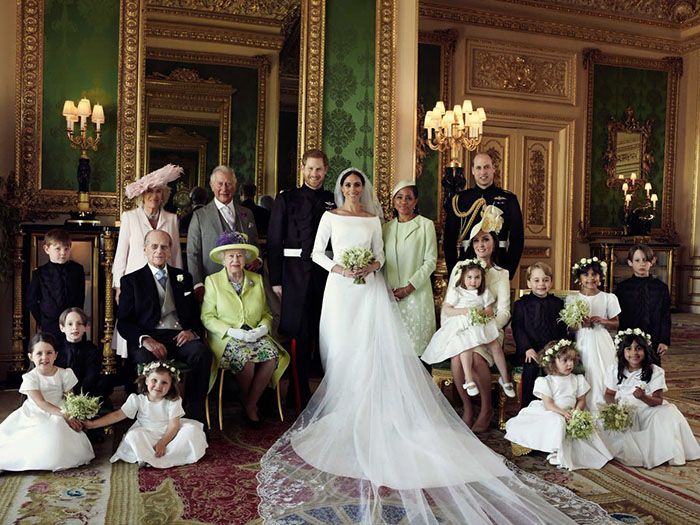 We have heard a lot of stories about the happy ending marriages of princes and princesses in our childhood. Beautiful were those days, isn't it? The good part is princes and princesses do not only exist in stories, they actually exist in the real world. We have seen many examples of the royal wedding, so it's not just a dream for Disney fans. Here is the best list of Americans who married into the royal family.
Americans Married Into Royal
Meghan Markle
We all know that Meghan Markle is not the first American who married into royalty. Ms. Markle became the Duchess of Sussex after marrying into the British royal family. She got a niche in the headlines when British Prince Harry asked her to marry him. As a 36-year-old divorced actress, she was an unconventional choice, but her bold, elegance and natural beauty quickly fascinated her to people on both sides of the pond. After accompanying a blind date by a mutual friend, Markle and Harry went on a camping trip to Botswana and just after a year and a half later, Prince Harry proposed Markle.
"It was so sweet and natural and very romantic. He got on one knee." Markle said
The Duke and Duchess of Sussex tied the knot at Windsor Castle on May 19, 2018, and Markle left acting after the wedding.

Grace Kelly
Another American married into royal is Grace Kelly who married into the small European country of Monaco. Known for her elegance and charming personality, the Academy Award-winner is truly born to be a princess and not just of Hollywood royalty. After meeting Prince Rainier III at the Cannes Film Festival, the love birds later married on April 18, 195. Her superb wedding dress continues to inspire today. Like Markle, Kelly left acting when she became a princess. She had three kids with the prince before her unfortunate death at age 52 in a car accident.

Wallis Simpson
Prince Harry was lucky enough to marry an American divorcee, but his great grand uncle King Edward VIII was not. Edward and Wallis spent a good time together for several years. When his father died in 1936 making him the King, he was not allowed to marry outside the royals. Refusing to give up on Wallis, Edward abdicated the throne saying:
"I have found it impossible to bear the heavy burden of responsibility and to discharge my duties as king as I would wish to do without the help and support of the woman I love."
King George VI, Queen Elizabeth's father, took the throne instead. Edward and Wallis, who became the Duke and Duchess of Windsor, were married from 1937 until his death in 1972.
Rita Hayworth
This vintage Golden Age of Hollywood glamour became real royalty when she coupled with her third husband, Prince Aly Khan, son of the spiritual ruler of Ismaili Muslims, in 1949. Hayworth had met the prince at a gathering on the French Riviera. But although she might have been a diva of the silver screen, her royal connection didn't last. The couple divorced several years later, after having a daughter, Princess Yasmin. Interestingly, Prince Aly's grandson from his first wife, Prince Rahim Aga Khan, also married an American, model Kendra Spears, now known as Princess Salwa.

Lisa Halaby
Also known as Queen Noor of Jordan, Lisa Halaby was a Washington DC born, Princeton graduate metropolitan planner and architectural designer when she met King Hussein while working on projects for Royal Jordanian Airlines. When they married on June 15, 1978, she gave up her career and instead started a life of public service. The couple had four kids before the death of his husband Hussein in 1999. She continues to be an influential appearance for many charitable events, as well as a regular Twitter user.

Kelly Rondestvedt
Kelly Rondestvedt was just an ordinary investment banker when she met Hubertus, Hereditary Prince of Saxe-Coburg and Gotha (a German duchy to which Prince Albert, Queen Victoria's husband, belonged), in a New York City restaurant. According to some sources, she didn't know that Hubertus, who was also working in banking, was actually a prince and didn't get wind of it until months later! After he proposed her in the royal's fairy-tale castle, the prince and princess married on May 23, 2009 and now have three kids.

Alexandra Von Furstenberg
Marrying princes runs in the family, because Marie-Chantal's sibling Alexandra, née Miller, also married royalty. Unluckily, her relationship was more momentary than her sister's. On October 28, 1995, just months after Marie-Chantal's wedding, she married German Prince Alexander von Furstenberg. Yes, you are right! His father, Prince Egon von Furstenberg, was married to Belgian fashion designer Diane von Furstenberg. Alexandra and Alexander had two kids but separated in 2002. The former princess is now remarried to architectural designer Dax Mille, who coincidentally shares her first name.

Christopher O'Neil
Closing the list with the prince, the American-British financier Christopher O'Neill met Princess Madeleine of Sweden through mutual friends and proposed in 2012.
"I had been thinking about proposing for a while, but I needed to wait until the right moment," But I have been sure all along that Madeleine was the one I wanted to marry," O'Neill said.
The couple married on June 8, 2013, and now has three kids. He didn't take a royal title as he's recognized officially as "Mr. O'Neil so that he could continue his private business pursuits. The family recently declared they are moving to Florida.