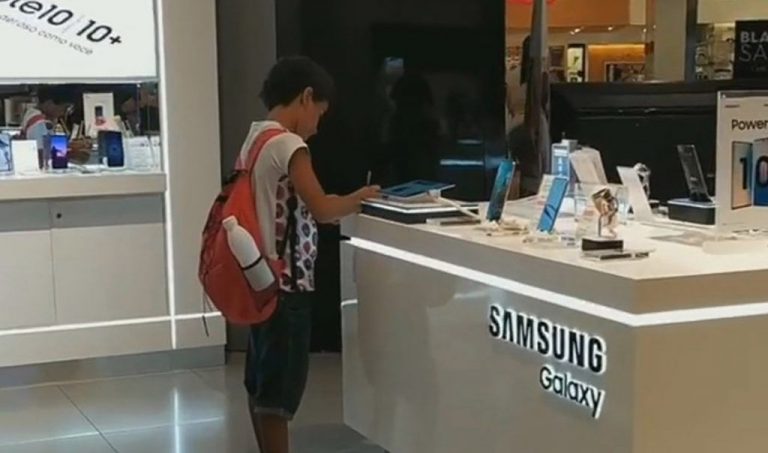 A schoolboy with no computer was recently filmed at an electronics store, using a tablet kept there to do his homework. The plot was videotaped at a shopping mall in Recife, Brazil, and the video was first shared on Imgur. The video went viral over the internet and got mixed reactions after it was re-shared on Twitter, where it has been seen 12.5 million times.
A Boy with No Computer
In the short video clip, the boy is seen with a school bag hung over his shoulder, standing inside an electronics store. He seems to be using a tablet kept on the Samsung display stall to research while making notes.
According to some sources, the boy was identified as 10-year-old Guilherme Santiago. Guilherme had been using his cellphone to study before a representative of the store invited him in and offered to use the tablet.
The viral video has received 162K of retweets so far and thousands of comments since being uploaded on Twitter last week. According to one person in the comments section, the video's viral fame led to Guilherme being gifted with three tablets of his own.
Some other people in the comments section appreciated the store worker who invited Guilherme in, while some criticized the school for not having good facilities and enough computers for students to use for their studies.
Humanity at its best...❤️

This child doesn't have internet access at home, so a store in the shopping mall allows him to use their tablet to do homework.

pic.twitter.com/YEn2qJVDuB

— FierceWarriorNStilettos (@InactionNever) November 13, 2019